As my first post in this category, I'm featuring 'PHOENIX', my very first laptop computer. (I'm supposed to name it 'STORM' since the night i bought the laptop, it was really raining hard with blistering winds hehe :)).
Bought "Phoenix" 7 weeks ago..well, yeah i don't own this pink gurly laptop..(due to tight budget huh!!) I'm thinking of buying a laptop skin soon for a more fashionable look. It's not that super computer but i can say it's specs is not that outdated..

WHAT'S INSIDE: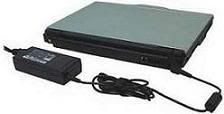 NEO ENDURA 531NLi
Intel® Pentium® Dual-Core Processor T2050
(1MB L2 Cache, 1.73GHz, 533MHz FSB)
Intel® 945GM Chipset
DVDRW Supermulti
3x USB 2.0
3-in-1 Card Reader
512MB DDR2 Memory (upgradable up to 2GB yehey!)
80GB SATA Hard Disk Drive, 14.1″ Widescreen WXGA TFT Display
Intel® Graphics Media Accelerator 950
Integrated Web Camera, Built-in Mic & Speaker
10/100/1000 Mbps LAN (for DSL/Broadband)
Integrated 56k Modem (dial up)
Intel® ProWireless 3945 a/b/g (Yeah Wi-Fi ready)
6-cell Lithium Ion Battery
2.5kg (Kinda heavy but tolerable)
I'm loving it so far, it never let me down, even during those heavy downloads that i have to leave it ON overnight. The built in Intel® Graphics Media Accelerator 950, which won't really run heavy 3D, is just more than good enough for me, since i don't really use phoenix for gaming (well, yeah yeah except for those occasional SIMS 2 and Age of Mythology games hehe). I tried installing age of empire III, but failed, I guess due to some incompatibilities.
It has a host of connectivity options like WI-FI, USB 2.0 so almost all the portability bases are covered.
The LCD screen is good, but sometimes it's hard to see the display at certain angles, so I need to adjust the monitor angle and my position to get a better view.
Package contains: NEO laptop, NEO Laptop bag, Driver CD (don't ever lose it!), NERO OEM version and Powerlink PowerDVD CD.
Price: Approximately PHP35,000.00 (as of May 2007)
OTHER REVIEWS:
It's really hard to find a review for this brand, since i think these laptops are not yet internationally released.
Related Post(s): My Laptop(NEO Endura 531NLi) was Reviewed by T3 Mag. Aug. '07 Issue